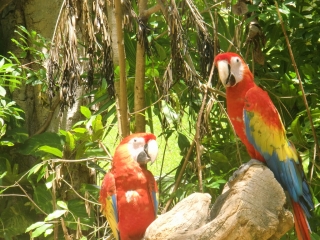 If you've ever been to the Riviera Maya, you've seen the signs, billboards, buses, brochures, rack cards, bookmarks, temporary tatoos, stickers, happy meal toys, plastic cups, and so on and so on advertising these super mega eco fun parks like Xcaret, Xel-Ha, XPLOR, etc etc etc. I'm not one to take the beaten path and wait in queues with a bunch of sunburnt tourists just to see a stingray or watch some hokey native dancing and then leave with the souvenir cup (although in this case it was a souvenir snorkel!) But today, I decided to do something different and try out one of these eco-parks. I was VERY pleasantly surprised.
Xcaret was pretty amazing. The park is huge and there is so much to do that you could easily spend a FULL (sun up to sundown) day here. My main goal was the underground river cenote snorkel thing. It was pretty cool. Beyond that, I had a lunch buffet, which at 3:30 pm was a bit, erm…dicey, but I picked and chose wisely. Then I went snorkeling some more out in the lagoon where the cenote fresh water mixed with the ocean and created that shimmery brackish cold water layer on top and warm ocean layer a few feet down. It was neat to see. Then I got dried off and explored some Mayan ruins and  sought out the Puma and Jaguars.
I ran across some show stars in full Mayan dress (some of them quite spooky). It was like a procession that somehow I was in the middle of, so I decided not to break the line and just followed the Mayan in front of me. I followed them around the Puma exhibit and  into a dark cave. When We emerged, we were backstage of a Cacao ceremony that they were about to start. I moved up the walkway to find a nice place to stand to watch the show. Now, normally, getting to a show this late would spell certain doom for trying to get a good view….HOWEVER, one thing I LOVE about Mexico is that everyone here is short! Towering above the people standing in front of me, I had no problem finding a good view.
The show was awesome. See the video (I'll post when I get back to 1st world internet service). Then I meandered my way into the butterfly exhibit, explored a little Mayan village and investigated the fake 365 cemetery. Lots of pictures from that and the crypts that reached far within the structure. The chapel was not to far from that and then a gift shop that was an attraction in it's own right.
I headed back to Akumal to join the others for our farewell dinner, otherwise I would have definitely stayed to see the final show, Mexico Specatular (or something like that).
So, if you find yourself in the Riviera Maya with a whole day (and a little cash) to blow, I would recommend Xcaret, but only if you've already seen all the other sites and attractions around this area (Chitchen, Tulum, Coba, Playa del Carmen, Cozumel, Akumal, cenotes, etc)
httpv://youtu.be/GkUC5javh4Q
httpv://youtu.be/5unQVMxbB9Q